Ginseng Plantation
Introduction
Maraeroa C Incorporation (Maraeroa C) has been growing wild simulated ginseng since 2006 when ginseng growing was first introduced to Maraeroa C by New Zealand Crop & Food.
The cold winters and dry summers together with the volcanic soils of the Pure-ora region are proving ideal for growing ginseng whilst the shade of the pine trees provides the other ingredient necessary to grow ginseng in wild simulated conditions.
Maraeroa C Incorporation aspires to growing the best wild simulated ginseng in the world therefore is committed to growing wild simulated ginseng that grows in natural conditions:
Using the shade of pine trees
Having longer growing times of 7-15 years
With Nil use of pesticides or fertilisers
With Nil cultivation of the soil
With Nil use of irrigation
With Low stocking rates
To produce wild simulated ginseng roots and leaves that:
Are Very High in the Ginsenoside (saponins)active ingredients
Have Nil Chemical residues
Look, smell and taste like wild ginseng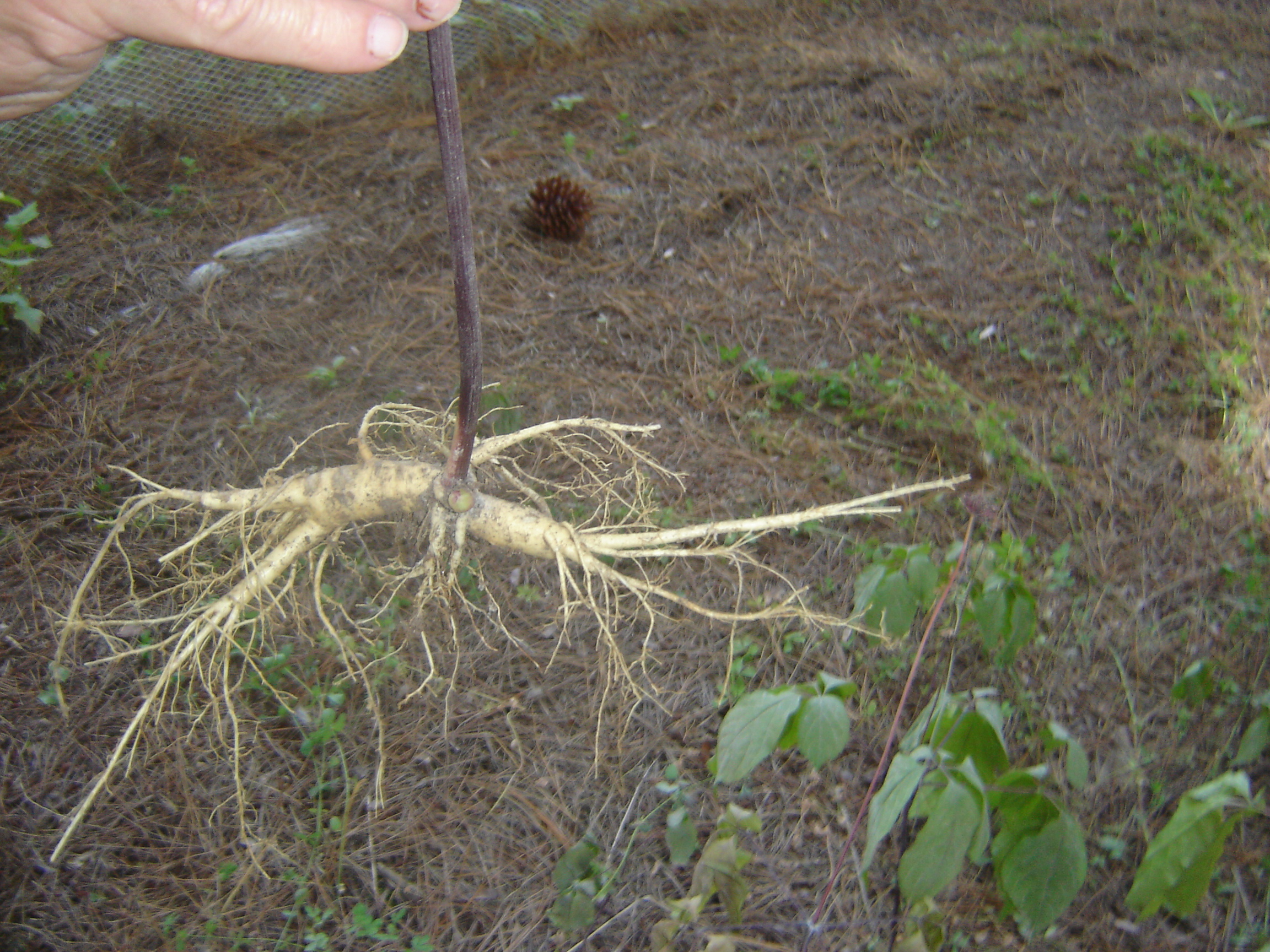 Wild Simulated Ginseng
Asian Ginseng (Panax Ginseng) makes up 80% of the crop whilst and American Ginseng (Panax quinqefolius) makes up 20% of the crop grown to date. Both ginseng varieties are flourishing in the New Zealand forestry habitat.
.
Ginseng Seeds
The first ginseng seeds are will be harvested from our 6 year old plants this year and will be the seed stocks that will make up our first varietal of New Zealand Ginseng. We will be planting all the seed we harvest this year.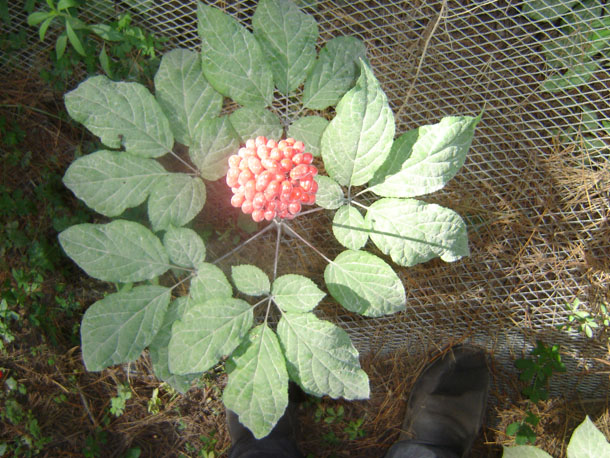 We currently import ginseng seeds for growers and also stratify the seeds ready for planting the following year. Contact us if you would like us to manage this activity for you. The seed is ordered in June/July each year and arrives in August. The seed is then refrigerated and prepared ready for planting out in May or June the following year.
.
Ginseng Seedlings
Maraeroa C Incorporation has some 500,000 seedlings growing in seed beds at present and will be ready for sale to ginseng growers in July. They are of the Asian variety. Simply contact Pa Harakeke on 07 929 8708 and ask for Daniel if you are interested in purchasing ginseng seedlings. They need to be transplanted in June, July and August months. The cost per seedling is 30c each for a minimum order of 10,000 or more
.
Ginseng Products
The first trial harvest of ginseng root will take place shortly when grading, drying and processing methods will be trailed to achieve the best final product. Products will be on sale at our Pa Harakeke Visitor Centre at Pureora following the launch of our new Ginseng Brand together with our first line of Ginseng Products. Products will also be placed with selected outlets in Auckland and Rotorua.
.
Ginseng Forest Tours
We will also be promoting our Ginseng Forest Tours at the TRENZ Expo which will be held in Auckland this year. Visitors will have the opportunity to visit our plantation, to try our ginseng tea and to purchase wild simulated ginseng from Pa Harakeke. Ginseng Forest Tours may be arranged with our Pa Harakeke staff and will be available, October through to March each year
.
Ginseng Consulting Services
We also offer new growers consulting services on how to grow ginseng particularly those forest owners who are located in the Central North Island. Simply contact us to set up a first meeting.
.
New Zealand Wild Simulated Ginseng Association
A new ginseng association is soon to be established to support growers, to set growing standards and to implement a Certification Process for Wild Simulated Ginseng Growers.
.
Korean & American Ginseng
Korean ginseng is a native of Eastern China (
Panax ginseng
), and American ginseng (
Panax quinquefolius
) is a native of North America. The root of both species is highly prized for its medicinal properties. Traditionally, the crop was harvested from the wild. Its high value has led to excessive exploitation resulting in the virtual extinction of the plant in its native habitat both in Asia and North America. As a result, ginseng is now grown as a horticultural crop. Ginseng's high price on the world markets, despite increased production, has created worldwide interest in this crop.
.
Uses
Medicinal use of ginseng in China can be traced back 4000 years. North American Indians were also using American ginseng for medicinal purposes well before it was commercially developed in the 18th century. Both species have distinct medicinal uses in Chinese medicine. The name Panax means cure all or all healing. The active ingredients in ginseng that give the plant its medicinal properties are the saponins, commonly called ginsenosides or panaxosides. Many ginsenosides have been isolated and identified. Most are found in the root, however, quantities vary considerably from plant to plant. The major use of ginseng is in Asia. While ginseng has not yet been recognised by Western pharmacology it is being used widely in herbal, health food and cosmetic applications.
.
Growing Environment
Ginseng is an herbaceous perennial plant. The native habitat of the two ginseng species is the open, broad-leaved woodlands in hilly areas between latitudes 36° and 48° N. Korean ginseng has a natural range from northern China to Siberia including the Korean Peninsula while American ginseng occurs in an area around the great lakes from Quebec and Manitoba south to northern Florida, Alabama, Louisiana and Arkansas. Most commercial production occurs in areas that experience a continental-type climate with cold winters and dry summers. This climate ensures that the plant experiences sufficient winter chilling to allow uniform emergence in the spring while the dry summers help prevent the spread of disease. The preferred soil type is free draining with no hard pan. Sandy loams to clay loams are preferred. Organic matter and fertilisers are often added to the soil before planting at rates that vary considerably from grower to grower. In its native environment ginseng grows under high levels of shade provided by the forest canopy. The plant quickly loses vigour and dies if the shade is removed. Shade can be provided by wooden lath, shade cloth or by growing the crop commercially under a forest canopy.
Growing Methods
There are two ways of growing ginseng –
field grown
and
forest grown
.
Field grown
ginseng is an intensive method of production that may involve green crops and multiple cultivations of the soil in the year before growing begins (Korea), or chemical sterilisation of the soil (North America). Raised beds are formed and either seed is sown into these by machine, or 1 year old roots are transplanted into beds by hand (Korea). Crops are generally covered by mulch and shade structures are erected to reduce light levels. Plant densities are high and crops are frequently sprayed to control fungal diseases. Plants are usually harvested after 3 to 4 years in North America and China and 5-6 years in Korea. Root is comparatively low value.
Forest grown
ginseng uses the shade of a forest rather than artificial shade. There are two variants of this type of production. The first is called
woods grown
ginseng in North America and involves the cultivation of beds and production methods similar to those in field grown ginseng. The second is called
wild-simulated
ginseng and involves minimal soil disturbance, low plant densities and long growing times (8-10 years). Wild simulated ginseng is usually indistinguishable from true wild ginseng and fetches prices 10-20 times the prices for field grown root.
.
Photo Gallery
Go to the photo gallery to view photos of our Wild Simulated Ginseng Crop planted amongst our Pine plantation near Pa Harakeke.


.