ABOUT THE TIMBER TRAIL
.
The 85km "Timber Trail" has been accessible to Mountain Bikers and Trampers since late December 2012 and has seen a huge increase in visitor numbers to the Pureora Region. The Department ofConservation has done a fantastic job in constructing the Timber Trail which is world class and is destined to become one of the most popular mountain bike rides, through native bush in New Zealand according to those who have already completed the ride. Seasoned Mountain Bikers are completing the whole of the Timber Trail in one day however most people are taking a more leisurely pace and enjoying the pristine native bush environment, the breathtaking mountain views, the historic Timber Mill settlement, the views from some of the longest suspension bridges in New Zealand as well as riding the Ongarue Spiral built for the trains to take logs out of the area at the height of the native logging industry. The Timber Trail has a grade classification of 2 across the whole trail but there is a mix of Grade 2, Grade 2-3 and Grade 3 sections alomg the trail.
.

Timber Trail – Multi Rides
The Timber Trail is very much a multi-day ride with the Timber Trail being able to be ridden in a few ways courtesy of the Pureora Shuttle which provides a pick up/drop off service to various points along the Trail. For more details of the shuttle service go to our Pureora Shuttle Service link.
| Rides | Description | Grade | Length |
| --- | --- | --- | --- |
| Timber Trail | Pureora Village to Ongarue (or reverse) | 2 | 85kms |
| Pureora Timber Trail | Pureora Village to Piropiro Flats (or reverse) | 2-3 | 40kms |
| Ongarue Spiral | Piriorio Flats to Ongarue (or reverse) | 2 | 45kms |
| Pureora Descent | Hopukia Road to Pureora Village | 2 | 14kms |
| Piropiro Crossing | Hopukia Road to Piripiro Flats (or reverse) | 3 | 26 kms |
| Maraeroa Cycleway | Pa Harakeke Loop Trail | 2-3 | 23 kms |
The map below provides information about the trail and is colour coded for each section of the trail.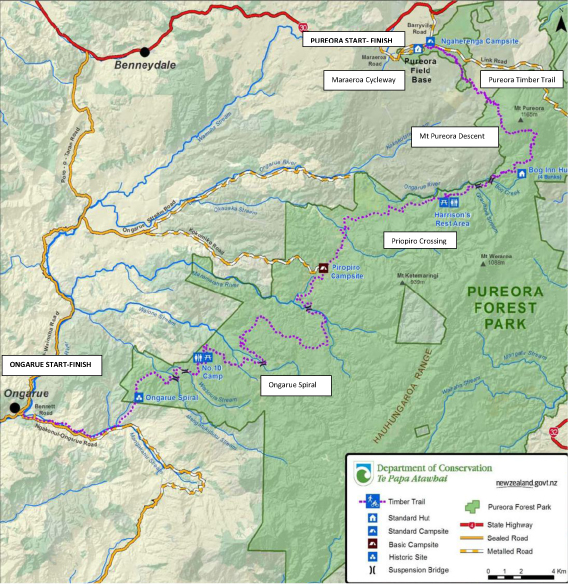 Contact Details
Simply contact Edwina Te Aho our our experienced and friendly Manager at Pa Harakeke on 07 8784879 or by email: edwina.teaho@maraeroac.co.nz for information about the Timber Trail